ProJuicer Rating
Based on Critical Decision-Making Factors
Juicing Efficiency and Yield
9.6
PROS
Retains nutrients and vitamins
Food-safe materials
Versatile juicing
Compact and lightweight
Durable
Multiple strainers
CONS
Narrow feeding tube
Expensive
Purchasing the best juicer may turn out to be a tricky job, and you are likely to be in a dilemma. Lots of high-quality juicers from various top-notch companies have made their appearance online. Hurom HP Series Cold Press Slow Juicer is one of the finest and multi-tasking cold press juicers available on the market. Thanks to its world-class 2nd generation powerful technology and robust AC motor.
We have considered factors like power requirement, juicing performance, and juice quality for this fantastic juicer machine. Fortunately, this product includes all the efficient features you will need to streamline your juice preparation process. As a sophisticated Korean product, this juicer has come a long way down in terms of popularity. To explore all the features, pros and cons, scroll down.  
Overview of Hurom Cold Press Slow Juicer
The juicer developed and designed by Hurom is 17.7 x 19.2 x 39.9 cm in dimension. This sophisticated juicer machine has a gross weight of 5.3 kilograms, much lighter than other modern juicers. With its 150 Watts economic and powerful AC motor, Hurom HP Series Cold Press Slow juicer retains all the essential nutrients, vitamins, and enzymes in prepared juices.
The packaging of this juicer includes a juicer machine, fine strainer, juice container, pulp container, and pusher inside. In addition, two cleaning brushes of different sizes are available inside the package to make your cleaning program hassle-free compared to other juicers. Besides, you will get a user manual and recipe book for further guidance.
The upgraded 2nd generation of slow juicing technology of HP series juicers significantly leverages the juicing performance. Moreover, its alternating AC Motor produces low noise and vibration during the action. Who doesn't like to prepare juice for their loved ones in a noise-free environment?
Hurom HP Series Cold Press Slow Juicer Design
The HP series products from Hurom gained significant popularity due to their solid build structure, unique design philosophy, and durable components. The quality of the build material is mainly responsible for the superiority of Hurom Cold Press Juicers. The auger of the product is made of ULTEM plastic, whereas the strainers are manufactured with ULTEM BPA-free plastic and high-quality stainless steel.
Polyetherimide (PEI) and sturdy stainless steel are the primary materials of the juice strainer. Therefore, the chamber can easily tolerate high pressure inside during the juice preparation process. Besides, the fine strainer's internal and external size is different, making the straining process smooth when the liquid moves through the fine filter screen.
Apart from that, the double-edged auger extracts maximum juice from the ingredients and minimizes wastage. Besides, the cord length of the juicer is about 1.4 meters, and the hopper is made of ABS plastic for better functional value. Also, the multicolor options make Hurom HP Series attractive.
Juicing Performance And Uses Of Hurom HP Series
The Hurom HP Series Cold Press Slow Juicer works at 43 resolutions-per-minute (RPM). The 2nd generation slow squeezing technology can prepare superior mixed juices from various fruits and vegetables. The 150 Watt energy-efficient, powerful AC Motor requires 220-240 volts current to deliver the best juicing performance. On the other hand, the juicer can work for less than 30 minutes at a stretch, reliving you from manual efforts.
With this robust cold press juicer, one can make juices from several fruits like apple, pineapple, pomegranate, grape, and vegetables like carrot, leafy green, amla, cucumber, etc. Moreover, the powerful AC Motor and juice strainer can produce juice from hard fruits like nuts, cashew, and almonds.
The juicer anti-oxidizes your body with maximum vitamins, minerals, and nutrients by extracting juices comprehensively. Its 43 RPM rotation speed and slower squeezing technology ensure that the prepared juice remains enriched with natural flavor and delicious taste. Another notable factor is that the  Hurom HP Cold Press Slow Juicer is one of those few juicers that can extract raw coconut milk which can be stored for up to 5 days in the refrigerator.
Warranty and Customer Support You Can Avail
This product from Hurom comes with a 5 years warranty on the motor. Besides, you will enjoy a 1 years warranty on each spare part of this item. Moreover, warranty processing is relatively easy in all the major cities in India. Besides, you can extend the warranty of the motor up to 5 years by simply contacting the official website of Hurom India.
Hurom has emerged as a celebrated name for its convenient customer care support. In case of any problem, customers can easily reach and consult with them. The availability of seamless 24X7 customer care support is one of the foremost reasons behind the success of Hurom appliances.
Hurom HP Series Cold Press Slow Juicer Price in India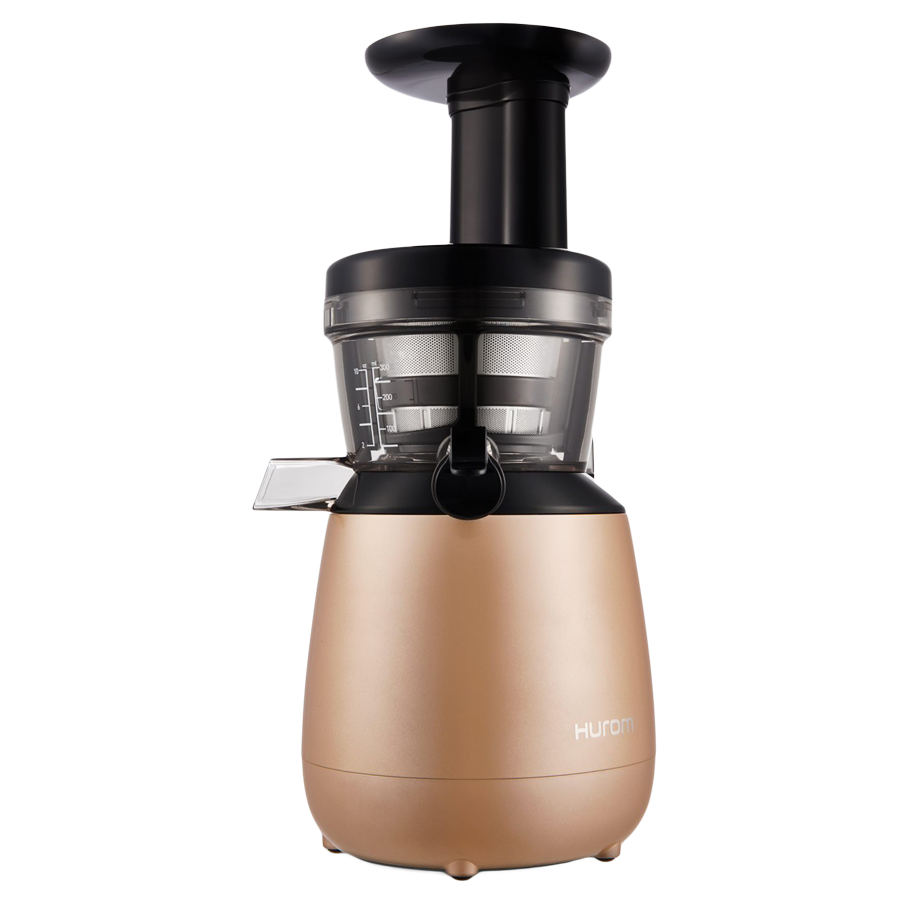 Rs. 17,999
Rs. 25,999
as of 02/12/2022 10:20 PM
ProJuicer Verdict for Hurom HP Series Cold Press Slow Juicer
The juicer's price lies around under ₹20000 in most ecommerce stores, which is fair enough compared to its contenders. The high-yielding, economic AC Motor can prepare the tastiest glass of juice for you within a few moments. Besides, the easy cleaning program and availability of spare parts have upgraded the product to a high level.
Editorial Choice Awards
Other Cold Press Juicers from Hurom
Compare Related Cold Press Juicers
Specification:
Hurom HP Series Cold Press Slow Juicer
General
| | |
| --- | --- |
| Brand | Hurom |
| Juicer Type | Cold Press Juicer |
| Model Number | HP Series: HP-LBD12, HP-RBD12, H-AI-SBE20, HP-WWD12 |
| Product Name | Hurom HP Series Cold Press Slow Juicer |
| Warranty | 1 year on juicer parts, 5 years on motor (additional 5 years warranty on registration) |
Design
Color
Body Material

BPA Free Ultem and Tritan Plastic, Stainless Steel

Dimension

17.7 x 19.2 x 39.9 cm

Weight

5.3 Kg

Strainer

Juice

Smoothie
Performance And Technical Details
| | |
| --- | --- |
| Power Supply | 220-240 V, 50-60 Hz |
| Wattage | 150 Watts |
| Motor Speed | 43 RPM |
| Continuous Run Time | 30 minutes |
You may also like…
Disclaimer
Being a reader-supported blog, ProJuicer.in earns affiliate commission from purchases made using links on this page. Learn more